Joey Deriquito
Content Writer
Nothing excites Joey more than a tank full of gas and an open road. He yearns for knowledge, always studying and researching about cars. Many of his friends would say that his car is an extension of himself, always able to observe when even a single bolt is out of place.
@AutoDealPH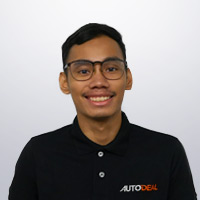 Toyota states that this will help give Filipinos a hassle-free commuting experience.

In a move to reinvent itself for future mobility Nissan has changed its logo.

We take a look at which Ford Everest variant will give you the best value for money.

The new Davao dealership will not only feature new standardized looks but will also provide the best service possible to customers.

These small trucks can give you great mobility options for your small business.

Despite the ongoing COVID-19 pandemic the 2020 Bangkok International Motor Show is still pushing through.

The Honda Brio or the Toyota Wigo, find out how they matchup in our head to head segment.

If you thought that the all-new Hyundai Elantra was sporty wait till you see this.

A new 8-seater MPV is set to join the Maxus Philippines local lineup.

Toyota might be upgrading its Land Cruiser Prado for the upcoming model year.

If you have an itch to race Toyota Philippines has the answer with the GR Supra GT Cup Asia race series.

The new variant celebrates the Mazda3 being crowned as the world's best-designed car for 2020.

A high-riding hybrid version of the Toyota Corolla is now available in Thailand.

Jaguar and Land Rover are now offering cleaner mobility options for Filipino buyers

A new possible vehicle for Kia's local lineup has emerged in the form of the Stonic.

Lexus officially unveils the refreshed 2021 Lexus LS that now comes with better technology.

A new easy and convenient servicing program awaits those who want to buy a Chery vehicle.

Nissan is set to launch another new model by July 16, 2020.

Ford's iconic off-roader is now back with a modern rendition.

These two new brand ambassadors will officially be the face of Geely Philippines.

Chevrolet is offering an online schooling program for those interested in mechanics and electrics.

Ford Philippines is set to launch an all-new crossover in the form of the Territory.

Suzuki launches its new Across plug-in hybrid crossover based on the RAV4.

Volvo issues a recall for 2.18 M vehicles that may have defective seat belts.

It appears that the updated Nissan Terra has been spotted doing public testing with a reworked rear.

Hyundai officially releases the new engine options of the 2021 Santa Fe.

Nissan is ready to unveil is all-electric crossover in the form of the Nissan Ariya on July 15, 2020.

A quick guide for understanding the differences between PS and HP

The online racing series will be open to all as long as they have a PS4, PSN, and the Gran Turismo game.

Jeep Philippines will soon be introducing its pickup truck the Jeep Gladiator into the local automotive market.

Images of the possible 11th generation Honda Civic sedan have surfaced online.

The actor will be using a Chery Tiggo 8 as his vehicle of choice for both his personal and professional use.

Mazda is set to launch a new variant of the Mazda 3 that now comes with a turbo.

The new leasing program will let users lease a Vios, Rush, Fortuner, or a Corolla Altis hybrid for a set time with a fixed monthly rate.

Toyota is set to launch a new Corolla based crossover by July of 2020 in Thailand.

The LTO will stop its issuance of student permits as it makes way for the roll-out of its new ACES system.

The new compact MPV is set to face off against the likes of the Toyota Innova.

The all-new Ford F-150 has officially been unveiled that now features a new front face with better and newer technology.

Kia introduces a new intelligent Manual Transmission that it says can improve your fuel economy by 3%.

The Honda City will now come with a turbo-diesel motor for the Indian market.

Based on the Hino 500 the FL 10-wheeler truck boasts impressive power and payload capabilities.

The Honda Civic sedan has been discontinued and is no longer on sale in its home market of Japan.

Toyota is giving back to Grab drivers with a new specific promo just for them.

It's big, it's long and it's back after originally being introduced into the Philippines in the late 90s.

Honda Japan launches the refreshed CR-V with a new variant dubbed the Black Edition.

After initially making its global debut in Thailand the Nissan Kicks is finally on sale in Japan

Hyundai, Kia, and LG Chem support start-ups for better battery technology in the future.

The Chery Tiggo 8 proves that it has got what it takes to satisfy its customers in terms of performance, design, and service.

Apple wants to change the game with regards to using your smartphone with your vehicle.

The new Geely sedan comes with the brand's signature styling along with Volvo's technology under the hood.